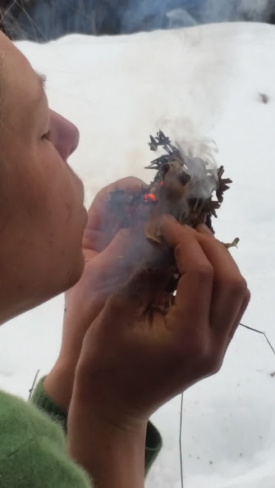 COME JOIN US FOR A PRIMITIVE LAND SKILLS CLASS OR RESIDENTIAL RETREAT!
Mireille Evans is our resident primitive wilderness skills expert, offering a unique experience for her students, in that she teaches bush skills through the lens of our traditional First Nations' Worldview.
She comes to us with years of experience and expertise, ample humor and a humble, happy heart.
Every skill that Mireille teaches is in adherence to our ancient First Nations sacred laws that govern the land, water, animals and plants. We only hunt, harvest or gather with permission from Mother Earth, the animals and plants themselves. All activities and events are provided with full sanction from our host Sinixt nation.
Some of the activities you have the opportunity to learn:
flint- knapping and primitive tool making
ethnobotany
natural shelter building
cooking over an open fire
animal and bird identification
advanced animal tracking techniques
hide tanning- both brain and plant tanning techniques
par fleche and other rawhide techniques
bush safety and orienteering
carving your own bow and arrows