Making the News for a Good Cause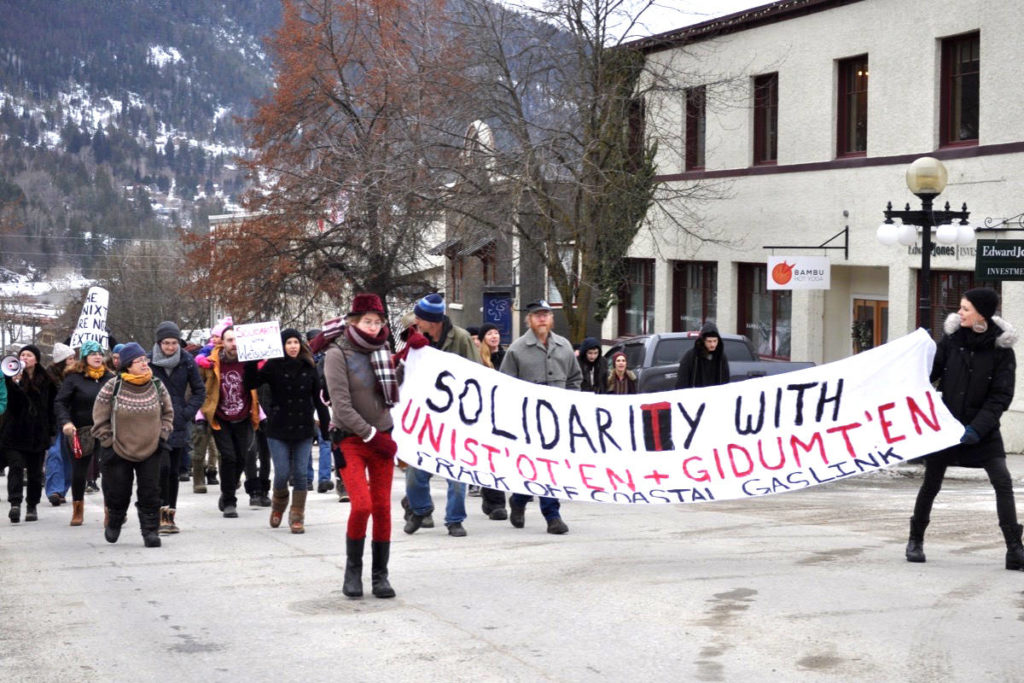 Four Nations was out to support our Wet'suwet'en  relatives as they work to protect the land and water in their unceded traditional territory from corporate interests.
We thank the indigenous peoples of this territory, the Sinixt, for all the hard work they have done to protect the land and the water here in the Kootenays.  We are so grateful that we have clean water to drink!!!
Let's all stand together to protect the land and water for the next seven generations.
Here is the excerpt from the Nelson Star newspaper on Jan.8, 2019:
Nelson protesters rally in support of Wet'suwet'en pipeline blockade
Kat McCooeye had one person in mind as she stood in solidarity with the Wet'suwet'en pipeline protesters over 1,000 kilometres away.
"I'm here because I'm a human being and I have a daughter and I want her to have eagles and grizzlies and bears and salmon," said McCooeye. "I'm here for all life."
McCooeye joined a Nelson rally Tuesday afternoon in support of the Wet'suwet'en First Nation's Gidimt'en clan. Its members set up a blockade on a forest service road southwest of Houston, B.C., to stop construction of the 670-kilometre Coastal GasLink pipeline.
The $6.2-billion project will carry natural gas from Dawson Creek to a proposed facility in Kitimat.
The blockade was torn down Monday by the RCMP and 14 people were arrested. A camp set up by the Wet'suwet'en's Unist'ot'en clan, which had an injunction granted against it by the B.C. Supreme Court in December, remains in place.
Although the Wet'suwet'en's band council agreed to a $13-million deal in support of the pipeline, its hereditary chiefs have unanimously denounced that agreement.
McCooeye, who grew up in the Gitxsan territory that neighbours Wet'suwet'en land, said the fight against the pipeline is an environmental issue bigger than one blockade.
"Those women, those children, those families and elders and hereditary chiefs up there are fighting for the land, for the water, for the animals, but not just for the Wet'suwet'en. They are fighting for all people, all life."
Read the full article and see the video here: https://www.nelsonstar.com/news/video-nelson-protesters-rally-in-support-of-wetsuweten-pipeline-blockade-2/