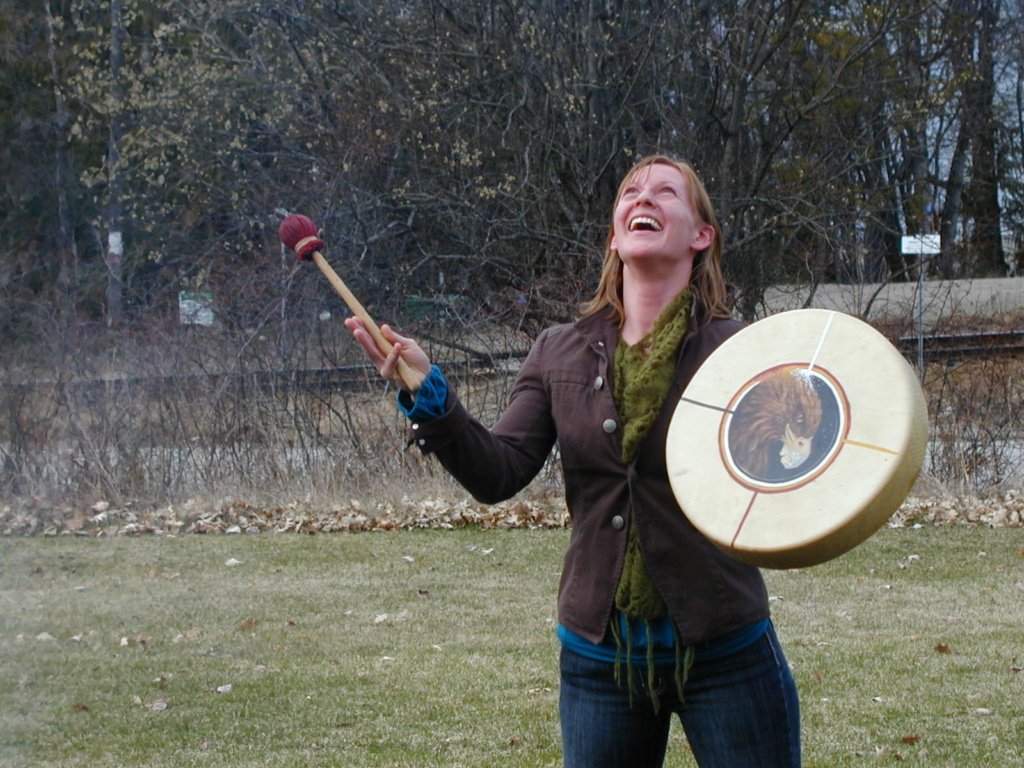 January 19, 2019 - February 9, 2019




10:00 am - 4:00 pm
This amazing workshop offers the opportunity to create your very own drum in a sacred manner.  The day begins with a chanupa ceremony and teaches pragmatic drum making and drum care techniques as well as the principals of ceremony in the context of sacred art.  Sacred art inspires healing and self reflection through the process of creation.
When we come together this way we enter into the realm of spirit, honouring the life and medicine of the animals and green people that have offered themselves to us for the purpose of making medicine through the voice of the drum.
An optional day two of this workshop a few weeks later takes you a step further, allowing you to learn how to awaken the spirit of your drum and come to know the medicine of your co-creation through a drum journey.  We will also learn the basics of how to drum with others and indigenous teachings and protocols around sacred songs.
***Day two is also open as a stand alone workshop for people who already have a drum and would like to learn more!
***The workshop fee covers your instruction only, drum kits are to be purchased separately so that the size and type of hide can be chosen individually.  Please order your drum kit with plenty of time to allow for shipping. Kits run between $50-210US.
We highly recommend Cedar Mountain Drums for quality, reasonable pricing and integrity of harvesting materials.  https://www.cedarmountaindrums.com/product/hoop-drum-kits/
Day One:
Chanupa (sacred pipe) prayer ceremony
Elements and Principals of ceremony
Sacred art
Honouring the animals and plant used to make your drum and learn about their medicine.
Create your drum
Drum care and maintenance
Day Two:
How to awaken the spirit of your drum
Drum journey to connect with the medicine of your drum
How to drum in a circle
Indigenous protocols around sacred songs
Part One: January 19th from 10am- 4pm
Part Two: February 9th from 10am- 3pm
Location: Vallican, BC
***Ladies, please note that this workshop is a ceremony in and of itself and creating a drum that you would like to use in ceremony is not recommended when on your "moon time" (while menstruating).  This is because our moon time is a powerful ceremonial time of discarding and the act of drum making is an act of creation- the two aspects are very vital to life, however they are energetically oppositional, which can impact the flavour of the medicine of your drum.  If you have any questions regarding this topic, or you would like to take the workshop but may be on your moon time on these dates please feel free to give us a call at 250-226-6702- we are happy to discuss this with you so that we can support you in honouring your sacred time.
Address:
4615 Passmore Upper Rd
,
Winlaw
,
British Columbia
,
Canada
,
V0G 2J0
Description:
We are located in the beautiful Slocan Valley on an acreage just steps from Airy Creek. Our head office/ retreat centre is located in a unique hand crafted straw bale timber frame house. Our sweat lodge is also located onsite. There are two bed and breakfast rooms available for rent year round- call 250-226-6702 to inquire about an overnight stay with us!